"He could stay up for days on end talking about movies and music, more about music than movies. He had this rock 'n roll head, knew every lyric and every title. He understood that the music was really a critical aspect of the zeitgeist of the times."
- Don Simpson (Warner Bros. Producer) on Martin Scorsese *

Okay so I loved THE DEPARTED as did most people I know and the majority
of th
e
critics but I didn't just want to write a formal review for it so I decided to do a piece on the notable reappearance of the Rolling Stones on the soundtrack of a Martin Scorsese film. I know it is far from surprising - Scorsese has made many movies that are chock full of '60s and '70s classic rock chestnuts. I mean he got one of his first movie gigs editing the movie WOODSTOCK (arguably the sunny flipside to the Altamont Hell of GIMME SHELTER

which George Lucas worked on weirdly enough) And of course Scorsese made the seminal concert film

THE LAST WALTZ

and the definitive pre-motorcycle crash Dylan bio

NO DIRECTION HOME

, sure but it's his telling cinematic relationship with the music of the Stones, one song in particular that is the theme of this post which I call:





EXILE ON MEAN STREET





Or : Scorsese and the Stones Together Again



Martin Scorsese's THE DEPARTED opens with a gruff Jack Nicholson voice-over monologue over archival news film of violence during Boston's anti-busing protests in 1974. Eerily winding it's way through the grainy footage comes Keith Richard's stinging guitar intro to "Gimme Shelter" – the all-too familiar but still potent 1969 Rolling Stones classic. The film shifts to the present with shots of Nicholson's character- Irish mob boss Frank Costello shrouded in a darkness that remains even when he enters a fully lit store-front. The piercing familiar strains of Richard's guitar fade as the scene is set. The song has done its job of setting the ominous tone and spooky feel and can exit. Thing is, Scorsese has played this tune before – twice before as a matter of fact.

Several Scorsese soundtracks have been peppered with Stones tracks, always from the 60's and early 70's era and always as scene carrying tone-setters. MEAN STREETS, Scorcese's 1973 breakthrough,
has an early scene in which the 2 main protagonists each respectively get stamped with their own Stones songs. A barroom jukebox blares the soulful "Tell Me" to present a cool, calm and collected Charlie (Harvey Keitel) as he glides half-dancing through the smoky red-lit tavern. A few minutes later wild rough unpredictable Johnny Boy (Robert De Niro) gets the jarring rollicking "Jumping Jack Flash" to greet him at the door. We assume back stories, identify the moods, and form some sort of a connection to these guys just from these songs doing their thing.


The Stones don't show up in a Scorsese film again until GOODFELLAS (1990). Rightfully considered a return to form and probably his most popular film, the soundtrack was an amazing mesmerizing ride – mix-tape moviemaking at it's finest with 3 Stones songs (or bits of) in the mix. Some kind soul (or someone with way too much time on their hands) posted an extensive listing of the 43 songs – most of them appearing as punctuating excerpts – and the place they occur in the film to the IMDb Message board for

GOODFELLAS

. When the era defining icons (Tony Bennett, the Moonglows, Johnny Mathis, Bobby Vinton) of Henry Hill's (Ray Liotta) 50's childhood descent into a crime filled adulthood dissolve into the unglamorous 70's downfall we have "Gimme Shelter" make its Scorsese film debut. Only a minute of the song appears and its from the second half when Jagger's and guest vocalist Merry Clayton's wailing is at its peak. It defines the shot of Henry cutting cocaine at his girlfriend on the side Sandy's (Debi Mazar) apartment. The jump-cut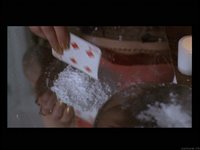 montage masterpiece finale sequence features bits of the Stones "Monkey Man" and "Memo From Turner" mixed in with snatches of the Who ("Magic Bus"), Muddy Waters ("Mannish Boy"), Harry Nilsson ("Jump Into The Fire"), and George Harrison ("What is Life"). These jarring song excerpts give a frantic jagged heartbeat to that one fateful day when Henry is on the run trading guns, setting up a major coke deal, hiding from helicopters, and trying to get a proper meal made at home ("keep stirring the sauce!" he yells on the phone to his wheelchair bound brother).


"Casino ? Caseen it . The first time when it was called Goodfellas. "
- David Spade (Hollywood Minute, Weekend Update SNL 1995)

Point is well taken - it's true CASINO (1995) presents same the tone, tension, some of the same cast as GOODFELLAS (Robert Deniro, Joe Pesci, Frank Vincent, Scorsese's Mother Catherine) and this time 4 Stones songs among them "Gimme Shelter" as well, appear in the just as extensive soundtrack. CASINO does offer some good filmmaking and involving narrative drive but even for this hardcore Marty fan it has too much of 'been there, done that' feel. "Sweet Virginia", "Can't You Hear Me Knockin'" and "Heart of Stone" make their brief snatch cameos and it's 5 Stones songs if we count Devo's cover of "(I Can't Get No) Satisfaction". Which I have to admit is an inspired choice here considering.

With the intro to "Gimme Shelter" setting off

THE DEPARTED

it's almost as if Scorsese could argue that he's never used the same part of the song in a film. Not sure if that's true – I didn't want to watch

CASINO

again but maybe someone will edit together a version of it from all three films and Youtube it. The new Stones addition to the Scorsese canon is "Let It Loose" from the 1971 album Exile On Main Street, possibly the most obscure Jagger/Richards comp
osition to be chosen for his soundtracks. Appearing in a crucial scene it underscores the fear and intensity of boss Costello (Nicholson) roughly intimidating undercover cop Billy Castigan (Leonardo DiCaprio) in a barroom backroom. The Stones sound best playing on some sleazy jukebox in a run-down dive you understand. The scene is timed to "Let It Loose" - the entire song plays never dropping out or fading away. An searing effect that lingers comes off this standout scene. It makes the case for Marty to continue digging up, polishing off, and setting to visceral action whatever Stones song he wants ('60s to early '70's era only, mind you).

So why has Martin Scorsese used the Rolling Stones "Gimme Shelter" in three different films? Probably the same reason Woody Allen has used Benny Goodman's "Sing Sing Sing" (more than once – it's an effective, exciting and historic piece of music. "Gimme Shelter" was born out of the same era that Scorsese was being born as a filmmaker. No other song captures the darkness that came when the '60's Utopian dream went deadly wrong with such wicked passion. It is a depiction of a floodgate of war, rape, and murder threatening to break violently open and drown us all. It seemed to be talking about Vietnam, talking about race riots, it seemed to foreshadow Altamont (the documentary concert film of which was named GIMME SHELTER), and it seemed like it illustrated everyday life in that scary era.

While writing this I learned that one of Scorsese's next projects may be a concert film of the Rolling Stones current tour. According to the info circulating Scorsese will be following the aging rockers between two shows at New York's Beacon The
atre on October 29 and 31. The shows will be part of former US President Bill Clinton's birthday celebrations. Ah, well it all makes sense now. Very good chance we'll have "Gimme Shelter" in a fourth Scorsese film. Maybe this time he'll really nail it. I mean, in our current scary era a live in the moment performance of this dark scorching song (with a former President in attendance no less) might get the real cinematic treatment that the previous appearances of the songs were mere auditons for. Scorsese might just yet capture the true force and nature of that rock classic beast and tame it with his camera and later master editing. I mean as the song says "it's just a shot away".

Notes :

* This quote was taken from Peter Biskind's excellent book

Easy Riders, Raging Bulls (Simon & Schuster 1999)